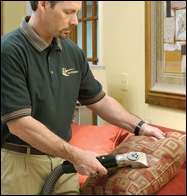 We have several experienced professionals trained to deal with the disarray and mess resulting from fire and water damage. We'll work hard to restore your home, office, or building to an inhabitable environment. We can restore damaged furniture, rip out carpet, dry rooms and buildings, and clean up the large scale mess caused from this type of destruction.
We are available 24 hours a day 7 days a week for your water damage or fire damage
emergency needs.
We want you to get back to your normal life as soon as possible. We'll work to ensure that you have a clean and safe environment to return to. We can also restore fire and water damage to furniture, window treatments, and flooring.
Some of our fire and water damage services include:
Water Extraction and Removal
Fast Drying of Carpets, Rugs and Pads
Fast Drying of Floors and Walls
Dehumidification of Premises
Mildew Treatment
Smoke Odor Control and Removal
Carpet, Rug and Upholstery Cleaning
Rubbish Removal
Deodorizing and Disinfecting
24-Hour Emergency Services

For a Free Estimate call us today:

877-899-0401