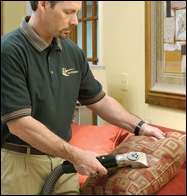 Welcome to FURNITURE CLEANING , one of the leading upholstery furniture cleaning companies in the United States . We are a privately owned company with over 10 years of experience under our belts. We have a long list of customers and it continues to grow every day!
FURNITURE CLEANING hires only the experienced professionals to be members of our team. We train our technicians in a wide array of specialized techniques so that we can guarantee they'll be able to handle your all sorts of problems. We tailor our services for either our residential customers or our commercial customers. We'll make sure that we provide you with the most efficient and safest method of cleaning your furniture.
Here at FURNITURE CLEANING we not only value your business, but we also value your opinion. Our priority is to provide quality services that are convenient, stress-free, and affordable to you. We have branches all across the United States ready to provide you with the best cleaning experience possible.
For Free Estimate for each of our services
call us today at: 877-899-0401
or Contact Us
---
FURNITURE CLEANING also provides many other cleaning services. In addition to upholstery, we also offer window treatment, carpet, and rug cleaning. Why go to several different places to get everything cleaned when you can do it all at the same time? We offer all of these quality services at affordable prices. Call us today and we'll send a technician to provide you with a free quote.
Some of our most popular services are:

Carpet Cleaning
Area Rug Cleaning
Furniture Cleaning
Drapery cleaning
Leather Cleaning
Water Removal
Pet Odor Removal
Deep Cleaning
Sanitizing
Deodorizing
Fabric Protector
Preconditioning
Stain Removal
FURNITURE CLEANING is fully licensed, bonded, and insured in order to protect your rights as a consumer. We are available 24 hours/day 7 days/week. Call us now for a free estimate!
FURNITURE CLEANING
877-899-0401
---
FURNITURE CLEANING services areas all across the United States, including:
New York, Los Angeles, Chicago, Atlanta, Dallas, Philadelphia, Washington DC, Houston, San Francisco, Seattle, Alabama, Alaska, Arizona, Arkansas, California, Colorado, Connecticut, Delaware, District of Columbia, Florida, Georgia, Hawaii, Idaho, Illinois, Indiana, Iowa, Kansas, Kentucky, Louisiana, Maine, Maryland, Massachusetts, Michigan, Minnesota, Mississippi, Missouri, Montana, Nebraska, Nevada, New Hampshire, New Jersey, New Mexico, North Carolina, North Dakota, Ohio, Oklahoma, Oregon, Pennsylvania, Puerto Rico, Rhode Island, South Carolina, South Dakota, Tennessee, Texas, Utah, Vermont, Virginia, Washington, West, Virginia, Wisconsin, Wyoming