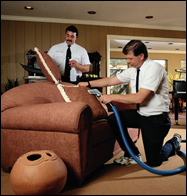 Treating your furniture to frequent deep cleaning will help keep it looking and smelling its best. When cleaning upholstered furniture, however, you need to be able to recognize the fabric and know the proper solutions to use that are specific to that fabric. Our upholstery cleaning professionals are trained and experience in a wide variety of fabrics and problems. They can visually inspect your upholstered furniture and provide you with a quote today.
Some of the many furnitures we service are:
Sofa Cleaning
Upholstered Chair Cleaning
Armchair Cleaning
Ottoman Cleaning
Recliner Cleaning
Leather Furniture Cleaning

For a Free Estimate call us at:

877-899-0401
---
Upholstery Cleaning Methods
Our upholstery cleaning specialists have been trained in cleaning a wide variety of upholstery fabrics. They will come and correctly identify both the fabric and the stain on your upholstered furniture.
After selecting an appropriate pretreatment for the stain/fabric combination, our specialists will use a mild conditioner to open up the fabric spacing and expose the particles of the dirt and stain. Once exposed, we will infuse the fabric with our cleaning solution and flush both the solution and dirt particles out with the flow of fresh water. Even after this step is complete, we will flush the fabric one more time to verify that no cleaning residue or dirt remains. Your upholstered furniture will be returned to you looking and smelling great.
Give us a try today and we guarantee you'll be satisfied. We have lost of experience handling the messiest problems. We'll work hard to ensure that you leave happy.


For a Free Estimate call us at: 877-899-0401




Upholstery Cleaning Tips